EPA and CARB Certifications of wood based-panels. Transition period ends on March 22, 2019
February, 2019 – Timber research and development Institute of Prague has just received a two years accreditation from the EPA (US Environmental Protection Agency). Timber Institute is an approved partner (Third party certifier – TPC) for certifying products involving formaldehyde-emitting materials. Companies that need an approval in accordance with the CARB and EPA rules can therefore turn to us for help with the certification process.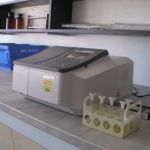 The EPA's standard was recently adopted (2017), so to give an adaptation time to the certification body, the EPA simplified accreditation until 22 of March, 2019. At the end of the transition period, only the bodies who had taken the necessary steps, stay accredited.
We have the latest technologies for Volatile Organic Compound (VOC) testing and we will assist producers monthly to insure the quality of production continuously.
Formaldehyde emission in wood based-panels:
Production of plywood, Medium-Density Fiberboard (MDF) and particle board, uses glue containing formaldehyde, a substance which is volatile and carcinogenic. To protect users, wood-based panels are controlled by standards limiting formaldehyde emission. Two standards from United States give the highest level of quality and security:
Title 40 of the Code of Federal Regulations part 770 (40 CFR part 700), enacted by the Environmental Protection Agency (EPA)
Title 17 of the California Code of Regulation, section 93120-93120.12 (17 CCR 93120-93120.12) enacted by the California Air Resources Board (CARB)
Because these standards outweigh the others, IKEA has chosen to apply both of them for their products. So, producers of plywood, MDF and particle board who respect the EPA and CARB standards have the opportunity to sell their panels to IKEA's manufacturers and also on the American market.
If you are interested in this service, email us at kotenova(@)vvud.cz.
For more information about CARB: https://www.arb.ca.gov/toxics/compwood/certifiers.htm
For more information about EPA: https://www.epa.gov/formaldehyde
About company
Timber Institute (Timber Research and Development Institute, Prague, s.e.), independent certification institution with a tradition since 1951, certification, testing, diagnosis and wood preservatives.
Billing information
Timber Research and Development Institute, Prague, s.e.
Na Florenci 7-9, BCIN 1685-1686
111 71 Prague 1
ID: 00014125
Tax ID: CZ00014125
date mailbox: v8zvffd
FIO Banka – account No. 2900972576/2010
IBAN: CZ8720100000002900972576
BIC/SWIFT:FIOBCZPPXXX
INDEPENDENT CERTIFICATION BODY
Authorized Body no. 222 on conformity assessment and certification of products entering the Czech market. The Notified Body no. 1393 commissioned to assess the products placed on the European market. Testing laboratories for testing products and whole buildings.