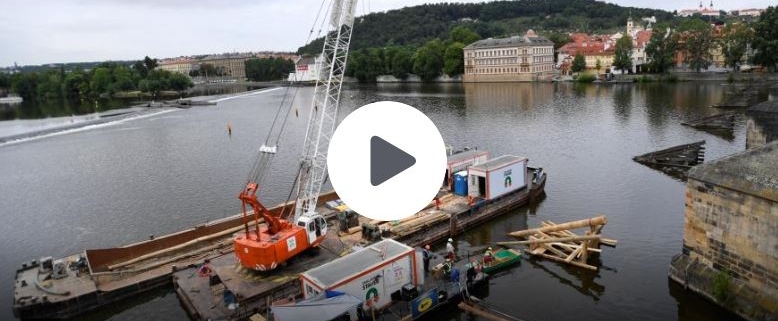 Charles Bridge in Prague is one of the main sights visited by thousands of Czech and foreign tourists every year. However, the structure dating back to 1357 is in a poor condition. The capital city is therefore planning a major reconstruction. Currently, it is starting to replace the wooden icebergs.
The Timber Research Institute is one of the partners involved in the reconstruction of this important Czech monument.
On the Vltava River at the Charles Bridge, the replacement of seven wooden icebreakers that protect the bridge piers during floods has begun. The Technical Administration of Communications (TSK) is also deepening the river bed at the site. While the dredging work will take a maximum of two months, the replacement of the icebreakers will probably take until the end of 2019. The Charles Bridge is the only bridge in Prague where icebreakers are used. The existing ones have been in use since 2004. According to an earlier statement by TSK, their condition has deteriorated rapidly in recent years and the new ones will be made of Czech oak wood.
For more information, see CT's main news report: https://www.ceskatelevize.cz/ivysilani/1097181328-udalosti/219411000100709/obsah/707253-opravy-ledolamu-u-karlova-mostu
And in the CT24 report: https://ct24.ceskatelevize.cz/regiony/2864057-duby-do-vltavy-sazene-u-karlova-mostu-zacala-vymena-ledolamu
https://www.vvud.cz/wp-content/uploads/2019/07/CT_ledolamy.jpg
436
778
Ivana Duchoňová
https://www.vvud.cz/wp-content/uploads/2019/04/logo_EN.jpg
Ivana Duchoňová
2019-07-11 13:14:00
2022-04-26 13:16:49
Repairs of wooden icebreakers at the Charles Bridge in Prague